Benefits manager resources
Manage your group plan from our secure portal.
Look for providers
Search for a dental or vision provider.
Manage billing
View and download invoices as they are generated and sign up for recurring payments.
Access employee information
Our 24/7 online tools empower groups to manage their plans entirely online.
Oversee eligibility
Securely enroll new members and dependents; edit, add, and term existing members, reinstate termed members, and more.
Our offerings
Our dedicated account managers and regional sales managers understand what employers and administrators need from their supplemental benefits plans and are here to help your business succeed. With more than 40 years of experience in supplemental benefits administration experience, Avēsis empowers our clients to make the best coverage decisions for their employees.
Dental
We manage dental care benefits that are flexible, affordable, and focused on solutions. We continue to expand our provider network and points of access so that everyone has access to quality dental care.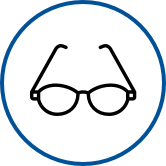 Vision
We administer vision care benefits for millions of members. Our plans deliver quality care at a good cost and give members the flexibility to choose their provider. We trust you and your provider to make the best decisions about your vision health.
Coverage questions
Can members end their vision coverage mid-year?
Members with a qualifying event—marriage, divorce, birth, termination of employment, etc.—can terminate coverage. All others will have to wait until the next open enrollment anniversary to disenroll.
Are domestic partners covered under the vision program?
Yes, as long as the employer offers benefits to employees with domestic partners, Avēsis will cover them.
What are medically necessary contacts?
When a vision care provider has determined that spectacle lenses and frames will not achieve the best vision correction possible due to a medical condition, those contact lenses are deemed medically necessary. In most cases, the following diagnoses will qualify a member for medically necessary contacts:
Keratoconus
Corneal trauma
Post-cataract surgery
Anisometropia
Can an employee elect COBRA coverage after terminating employment?
Avēsis allows members to extend their plan coverage after employment ends if they meet COBRA eligibility requirements. If Avēsis didn't administer your plan, then the employer is responsible for continuing your coverage.
Up to what age is an eligible dependent covered?
Eligible dependents are generally covered up until age 26, though specific terms for you and your dependents will always depend on your group's insurance certificate and state/local laws and regulations.